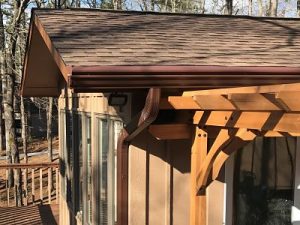 Your gutters are one of your home's most essential lines of defense from the effects of Mother Nature, which makes it essential that you do everything you can to keep up with the appearance and functionality of your gutters. Rather than climb up on a ladder and risk an injury while cleaning out your gutters, do yourself a favor and rely on a new type of gutter installation, the Gutter Helmet system. Vinyl Services, Inc. specializes in this unique protection system, and we'd love to take this opportunity to tell you more about it.
The Industry's Best Gutter Guards for Your Home and Finances
While Gutter Helmet isn't the only gutter protection system available, it's certainly the best. In fact, it's been voted the nation's leading gutter protection system for more than 30 years. What makes Gutter Helmet such a great option for a gutter replacement is:
It's a permanent solution, which means you never have to worry about cleaning the gutters of your current home ever again.
The Gutter Helmet system is designed to keep leaves, twigs and other types of debris out of your gutters in order that only water flows through them, down your downspouts and away from the foundation of your home where it can lead to a number of problems.
The gutter protection system is just as visually appealing as it is effective at keeping your gutters clean, meaning you home looks better with them.
The Gutter Helmet system is affordable, which means there's no need for you to worry about your finances going down the drain along with rainwater.
Even better than the above advantages is the fact that your gutter protection is installed by experienced professionals. After all, such a superior system wouldn't do you or your home much good if it was installed by untrained and uncaring amateurs.
Give Us a Call
To experience firsthand how a gutter company should do business, call Vinyl Services, Inc. at your earliest convenience at (864) 638-1900. We also feature a contact form right here on our site.