Vinyl Services, Inc. began business in July of 1985, in the small rural town of Walhalla, located in the western upstate of South Carolina. Vinyl siding was new to the area at that time, and was the best solution for older homes in need of paint. Seeing a great opportunity, Larry decided to put his machinist's career on hold and dive into the construction market he grew up in.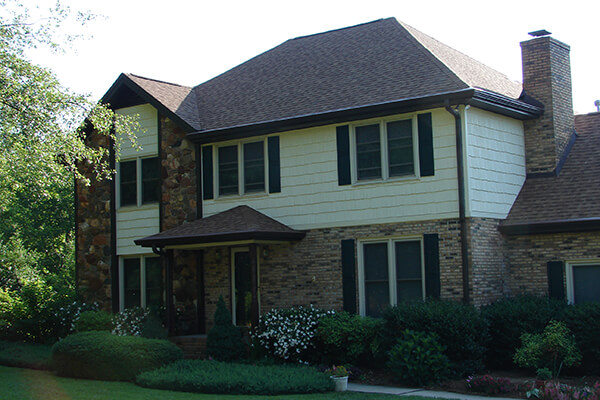 The focus for the first five years was to learn and perfect the trade, as well as develop the skills to operate a small business efficiently and effectively. Therefore  expansion developed slowly. Small carpentry projects were then added between siding jobs as Larry decided to use his carpentry skills to build decks, small pole sheds for campers, and even once built an enclosure for a swimming pool.
Vinyl replacement window installation began in 1993. Again, vinyl became the logical choice to replace the old wooden windows that would no longer hold paint or keep out the cold air of winter.
Vinyl Services, Inc.' first 5 inch gutter machine was purchased in 1995, making seamless aluminum gutters the third new product line to be added. Gutter installation was becoming necessary on most siding jobs, so the decision was made to install them ourselves, rather than use subcontractors. We found that with employees, tighter quality control measures were easier to teach, learn, practice, and become habit.
In 1997 we began to install 6" seamless gutters. Commercial buildings needed a bigger gutter to catch their large volume of water, as did some larger homes. By the year 2000 metal roofs were becoming popular on homes, barns, and sheds. These metal roofs also require 6" gutters because of the accelerated water runoff.
Over time, the demand for leaf protection began increasing, so in 2004 we became the area dealer for Gutter Helmet. Gutter Helmet came to market in the 60's, and quickly earned the slogan "Never Clean Your Gutters Again." Gutter Helmet was designed as a retrofit system for existing gutters. Homeowners, whose only choice until that point had been screens, were ready to replace those so their gutters would never clog again.
Other products have been added in the years since. Dry deck systems are popular for increased outdoor living space. Composite decking, along with vinyl, aluminum, and composite handrail systems help decrease the maintenance required by wood, as do aluminum screen porch systems. SunShade retractable awnings allow decks to be used more often.
Vinyl Services, Inc. has always taken pride in providing high quality professional services and products for their clients. We are always listening to the problems that arise with their home's exteriors, and searching for new products that are the solution.